Well, that was magical.
Andrew and I got to Stubb's heinously early, even after we got halfway there and had to go back for my ticket. We definitely wanted enough time for him to eat, cause he was starving, but I am viciously paranoid about anything with the vaguest possibility of interfering with a Crash Kings concert, so he got the menu and ate at the bar. Luckily we had forever to wait around, so we sat at the weird little folding table on the patio and talked till it turned out that was the merch table and the openers asked if we were the official people cause they needed to set up their merch. They insisted we didn't need to move, though, and stood around chatting for awhile. King Washington are nice boys.
We sort of drifted inside in anticipation of the doors opening and got our wristbands before they let anybody in, because we'd been there for an hour and a half. So we sat on the stage in front of Tony's piano, hanging around to wait, and, lo! While he was setting up, my favorite Crash Kings roadie recognized me, greeted me enthusiastically, and said "don't tell anyone". He knew I was the transcription person, and later he told me Tony had been looking forward to seeing the new ones. So that was gratifying.
In addition to being eminently pleasant to talk to, once the doors opened and everybody took a place on the floor, it became apparent that King Washington are
killer musicians
. By the end of the first song I had resolved to get the album they had on sale on that table, and none of the following songs disappointed either. They're hugely excellent at vocal harmony, more than just the two-part stuff that Crash Kings feature between Mike and Tony, because both guitarists and the bassist all sing, and they use it almost all the time. I'm a sucker for good vocal harmony, but their songs are also put together very well, vaguely 60s but with a significant amount of unexpected progressions, which I'm also a sucker for, and they don't suck at their instruments either. They also do an adorable faux-echo trick on a couple songs, repeating the last syllable and backing up from the mics. That won me over completely.
And then it was time for our boys. Sometimes when Tony thanks the crowd for being awesome, it's politeness; sometimes he calls them out on their apathy, so this time when he climbed up to his piano and grinned and professed amazement at how the crowd knew how to make a band feel at home, and he wished he could just be here, I don't think it was feigned. The crowd really was great.
As was the show. There is really nothing like the slow-sunrise smile of a performer who realizes nearly everyone in the audience is singing along with him. And there's nothing like his nearly incredulous grin of recognition when he realizes you're in your accustomed spot.
I headbanged so hard it hurt, and was far enough out of breath sometimes that I couldn't even sing properly. I wasn't really keeping track of what went in what order, only that they rocked harder than I'd ever seen them. A lot of that has to do with the material from the second album, naturally, which is less piano-bass and more synthy clav wonderland, but there was enough ingrained amazement I didn't trust myself to remember what happened when.
Tony posted the set list on Twitter later, which is handy, because I think I borked my camera when it jumped out of my pocket, so I only got two tiny clips recorded before it would no longer turn on, and sometimes I use it to keep track of what they played. Luckily, I didn't have to here: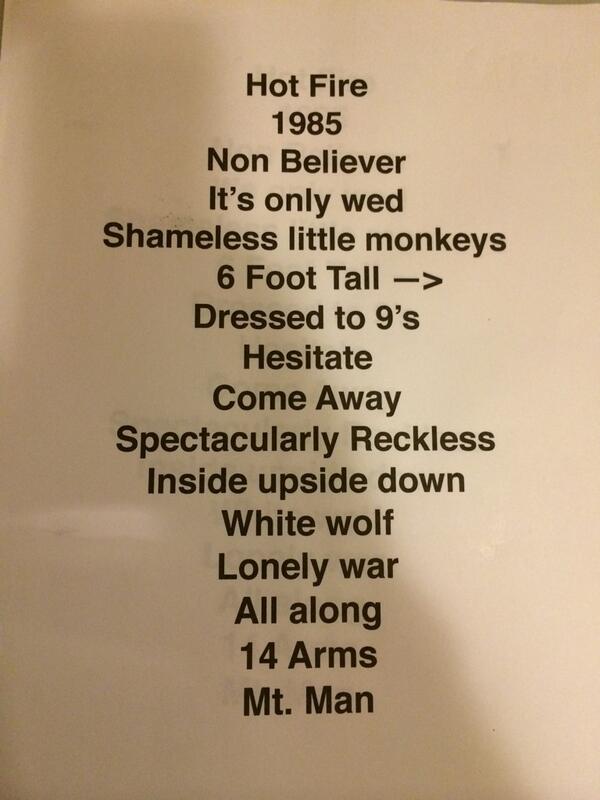 There were a couple of banter/patter moments where Tony established a pretty good relationship with the crowd; he decided that there were an awful lot of pretty girls in the audience, and Austin guys are lucky. Awhile later, Mike told him he was digging himself into a hole when he got to the end of the first runthrough set and thanked us all for flying on Crash Kings airlines with them and made a Malaysia joke. It was probably true. In another moment, near the end, he made a little announcement about how a fan had flown in from Salt Lake to see them for her birthday, and he played her Happy Birthday in an adorably loungy jazz style. It was absurdly cute.
Spectacularly Reckless, a new song I had never heard in my life, is GORGEOUS. I LOVE IT. Even catchier than most of the second album, I was singing along by the second chorus, and I cannot wait to have a recording of it. Tony was talking after the show and apparently they're going right back into the studio when they finish the tour, to start on the third album. Perfect. I want it. I just get so excited.
A few days ago, while I was still vibrating with anticipation about seeing this show, I was trawling Youtube for live videos of the second album, and I noticed something. There were at least clips of almost everything but White Wolf. So I tweeted Tony to ask if they ever played it live, and he answered "yeah we do. Maybe in Austin". Turns out, they had never played it on tour before. So they played White Wolf specifically because I had asked about it, and Tony pointed at me at the end and said "that's for you".
The two encores not included on this setlist (and boy did the crowd require an encore; we were chanting "one more" for what seemed like several minutes after the boys left the stage) were My Love, which was sweetly touching, especially since it was at the end of a long show and the low notes were pretty iffy in Tony's voice, and Saving Grace, which numerous people in the crowd had been yelling for intermittently throughout the show between songs (Tony mock-sternly informed them that requests were not open at this time). But then after the first encore, I heard the familiar progression rumble that I knew from hearing them do it live before, and just exploded with glee. They hammered the opening bars, and then, on the first verse, which opens "Take my hand", he did his usual mic-grab and step-touch, and looked down at me and
reached out for my hand
. So of course I gave it to him. I sang so loud and bounced so hard I couldn't breathe, and couldn't sing, and clung to the stage as we all mellowed out during the buildup to the chorus.
I was so tired when they finally left the stage for the last time, I just went out to the merch table and sat down on the ground in a corner. Then I realized I hadn't yet bought the King Washington album, so I took care of that and chatted with the guitarist for awhile, learning that this was their second album (they sold out of the first one, but it was on iTunes). I really, really liked their music and hope to see them live again.
While waiting for the crowd around Tony to thin, I hung out with tour manager who had recognized me, and he asked to see the transcriptions and marveled at them for a bit, explaining how Tony knew I'd be there and was really looking forward to seeing them. He showed me the new shirt, which of course I bought despite wanting one of the new tank tops (they were sold out, and I prefer to buy merch at shows rather than off the online store). Andrew was saying how he felt a bit special because we were authorized to hang around after everybody was gone, as the tour manager knew Tony would want to talk to me. There was a hilarious interlude where about four groupies attempted to go off with Mike (who was very drunk), and then a couple got very upset when he sort of sidestepped them.
Finally, nearly everyone but the crew and the staff and the bands and a couple of really old friends of Tony's were gone. The closing staff, one guy in particular, were getting really grouchy, but there was Tony, beaming to see me, as I told him I had something for him, as well as some questions. So I gave Tony the transcriptions. He grinned really wide when he saw the title of Hesitate and looked through it, and thought for sure I had done both Raincoat and 14 Arms before, but I told him all I had left to do from the first album was You Got Me, because I wasn't sure what to do with the end, and I did 14 Arms specifically because he'd told me he'd wanted to see what it looked like. He told me he still had all of the transcriptions I'd given him, and he looked through the new ones a bit and answered my questions about the changes in the bridge and the inversions in Raincoat to the best of his ability, though he remarked that he doesn't read music much anymore, and he'd really like to get to a piano to give these a good looking over. So I told him I'd love it if he would, and he said he'd send me corrections if he could figure out how to specify where/what to change, and I reminded him there were bar numbers on the sheets. I didn't want to ruin his life or anything, but I'd really appreciate it if he could send me changes, and he said it was
his honor
. I told him I keep doing these things because he keeps writing stuff I love and just can't leave alone.
I even told him I might do Wednesday on my gig in a couple weeks, and he said, "good for you" and seemed really pleased. I told him I'm a bit terrified, which he thought was understandable, and I was excited but I don't know how to do a rock show, really, as I've never done one of just my own stuff. He reassuringly said he was that way at first and then you try it and you stop being terrified, and it was just utterly fantastic to talk to him about it.
They were loading out during the entire conversation, and the venue staff were getting more and more grouchy, and by the end of our conversation they were literally kicking even the band out, so I bid the boys goodbye and split, and Andrew and I drove home in something of a daze.
Everything hurts now, but that may well be the best show I've ever been to. It was really nothing short of magical, but magic like it's portrayed in magical realism, the kind where everything seems normal and nobody acknowledges the wonder because it's very strange but it's part of life.
I hope there's another show soon.
I hope my own show goes well.